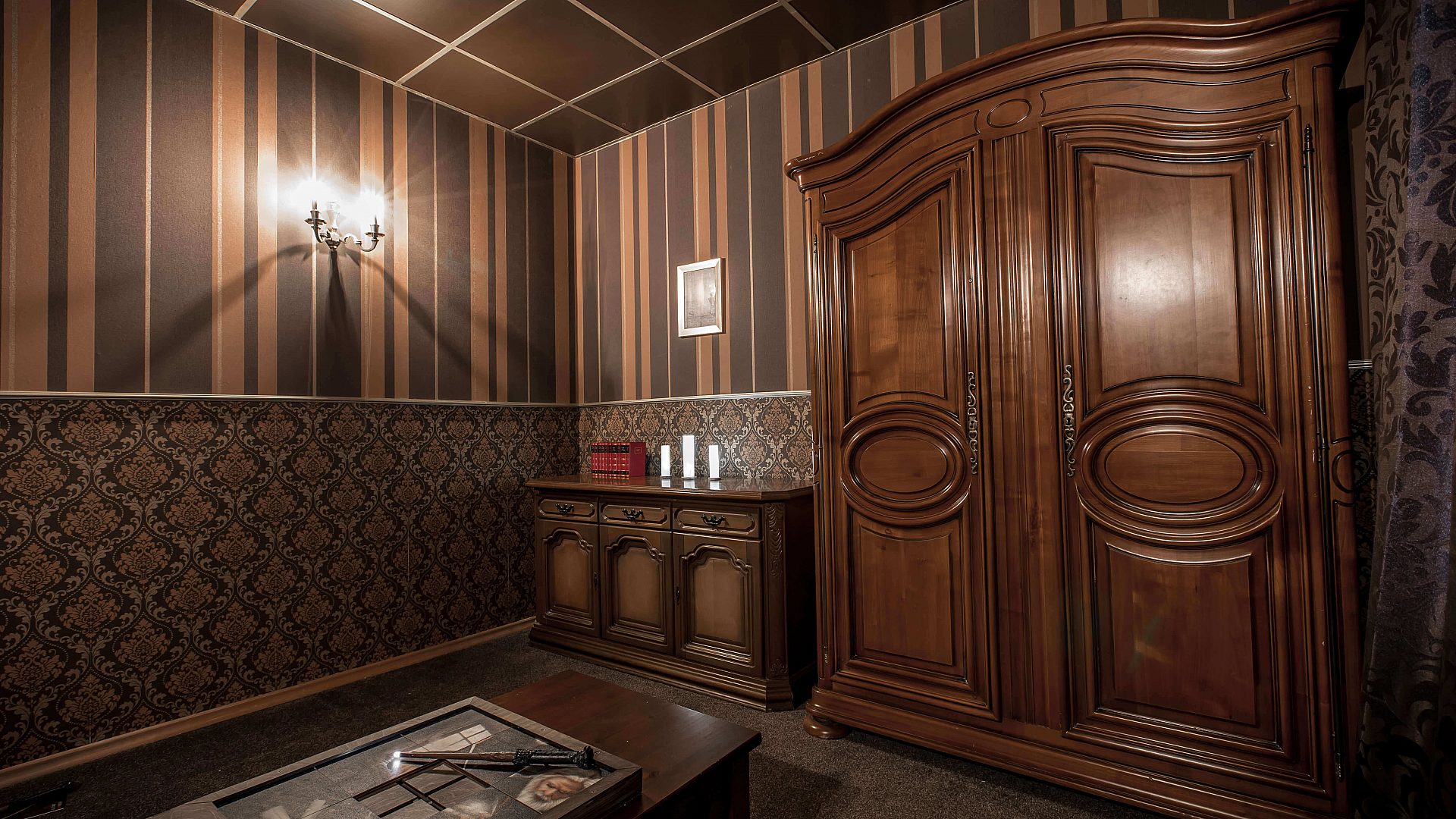 The Wizard's Cabinet
This escape room Is truly magical - literally! Fans of escape rooms will quickly realize that magic and sorcery are not only a part of fantasy and fairy tales, but also create a truly exciting and realistic experience in the gloomy chamber of the magician. Quick - the old clock of the wizard is ticking!
Magic and sorcery in one game
The chamber of a sorcerer from which escape is said to be almost impossible? Magical riddles that need to be solved in order to maybe escape the cursed prison?
You think that's all nonsense and escaping can't be that hard? You could not be more wrong! The magical chamber of the magician contains numerous secrets, all well hidden and difficult to solve - a truly magical escape game!
The old pendulum clock on the wall ticks relentlessly, and the pointer advances further and further – here 60 minutes means nothing and is hardly enough time to solve the puzzles and find the way out of the magical dilemma and magical chamber of the magician. The room appears smaller and more mysterious each time. Darkly paneled walls and a gloomy and enchanted atmosphere add to the growing panic among the nervous players.
A single person would be hopelessly lost in this cursed Escape Game and would have no way of finding a way out within the given time. Only with some magical talent and when working together, can the dark mystery of the gloomy chamber and of the conjurer be solved.
You will encounter mysterious signs, dark incantations and mystical puzzles. Only with magical delicacy, magical senses, the genius of a real sorcerer, and the intuition of a great magician, can you come out of the room. You've always wanted to swing the magic wand yourself and would like to conjure things up, solve puzzles and escape sheer impossible situations like Harry Potter at Hogwarts? Then you are at the right place at "live escape game Wizard's Cabinet" - the secret of the magician has already driven more than one person into despair!
starts at only
per player
"It was the first time that we tried an escape room and it was an amazing experience. I completely recommend it. It was very fun, the more people the better. "
"It was a great experience for me and my friends! Highly recommended for those who want to have some different type of fun! The staff is very polite and helpful! "
"Great rooms, definitely recommended for groups!"
Questions & Answers
Who is live escape game for?
Live escape game is fun for all: friends, colleagues, families, you name it. If you are looking for something other than the usual bars, movies and the like, then Labyrintoom is a sure bet. Come and check it out.
How long does a game last?
For each room you will be given 60 minutes to escape. Please also allow 10-15 minutes for us to provide you with the instructions and basic rules needed to complete the game safely.
Do I need any special skills or knowledge for the game?
The game is designed to test team working skills, creativity and "thinking outside the box". It requires no special skills and is not physically challenging.
What payment methods do you accept?
At the moment we only accept cash payments, however gift vouchers can be bought online (PayPal, bank transfer or a credit card).
Do you have more questions? See the most frequently asked questions